Creatio Classic: Slavery Is Not a Game
August 18, 2020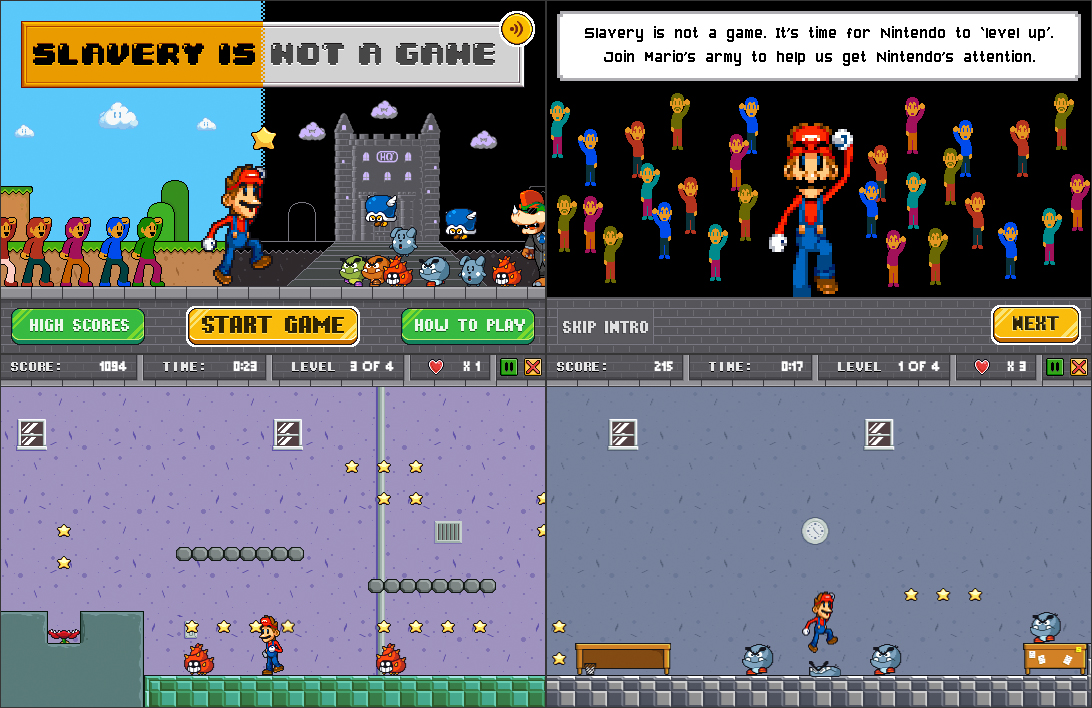 We used to make a lot of games at Creatio. Back in the mid 2000's around half of our projects were Flash games (remember Flash). But within years of the iPhone's release, those projects stopped. Thankfully you don't need Flash to make online games. Using modern JavaScript and HTML you can still make great casual online games, which is exactly what we did for the non-profit Walk Free back in 2013.
Creatio were engaged by the anti-slavery group Walk Free in 2013 to design and develop a video game parody of Super Mario Bros for a campaign addressing the use of conflict minerals in Nintendo's products. The campaign was inspired by a report which scored Nintendo last among 24 major consumer electronics companies in steps being taken to address conflict minerals in their products.
Growing up playing 8-bit platformer games on SNES and Master System it was a dream project for us. We created 8-bit game sprites inspired by the characters and levels of Super Mario Bros, and created 8-bit sound effects and music too. The end result was a fun casual game than looks & feels like it came straight out of the early 90's.
Although the campaign is no longer active, we have uploaded the game for you to play (you won't be able to save your high score though).
And by the way, we still make games both for the web and mobile. So if you're interested in creating a game, please get in touch.
See more news